Lists of Online Publications
With Links to Rowena's Page
---
eBooks (mostly)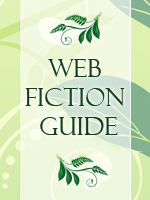 By far the largest and most active review site I have ever seen, Web Fiction Guide (online novels, reviews) brings a genuine sense of community to those who read and publish fiction online. The reviews are generally thoughtful and informative, and a single work is likely to get more than one, giving a diversity of viewpoint that one rarely sees (and always wants). You can find my reviews and recommendations on my "shelves", join the site and do your own, and discuss it all on the Web Fiction Guide Forums. (See: Rowena's Page listing.)
Jennifer L. Armstrong presents her Free Online Novels, and links to many others. (See: Humorous.)
The eBook Directory bills itself as "The Biggest Directory of Free eBooks Online!" and it's certainly one of the best. In addition to fiction, it has a strong emphasis on Business and Marketing. (See: Literature/Novels.)
Speculative fiction author RKP Hunt maintains Hunt's Ebook Directory. Quite an extensive list of resources for both readers and writers, with a large directory and a forum. (See: Comedy category.)
Jogena's offers "eBook and eZine directories . . . from business to pleasure." A smallish directory but rather nice. Though what possessed them to put Rowena in with the gambling books I'll never know. (See: Humor eBooks.)
Both Best eBooks World and Vyom eBooks declare themselves to be the "World's largest free ebooks directory." Since they seem to share a database, they may both be. (See: RGL listing or Top \ Literature \ Novels.)
eZines (mostly)
Ah, eZines, remember those? When Rowena first hit the net, e-zines were a major part of what people did here. Ezines looked and acted like paper magazines, with editors and dated issues, but they were cheap to produce (even in full color!) and had instant worldwide distribution. They were going to change everything! Maybe they did. But then everything changed. Now they tell me that blogs are meeting all the needs that ezines did, only better. Maybe so, but it's not the same.
John Labovitz's e-zine-list is an Internet Institution, now sadly dated. Browse the detailed listings by title or an immense list of keywords. (See: Keyword: lemurs.)
Take another walk through the past of web published fiction in Brian Winter's Guide to Fiction on the Web. About the time Rowena went online he started doing nice capsule reviews of fiction sites. But pressures of time soon forced him to stop (ever the bane of the amateur web). By popular demand, he archived his site on a free hosting service, where it remains untouched to this day. (See: R.)
Next:
Humor and Fun Pages
.
---
---
Rowena's Page
---
Copyright
© 2014 S. D. Youngren <sdy@sdy.org> Site design and hosting by Mark D. Strohm.