Humor and Fun Sites
With Links to Rowena's Page
---
Archives / Collections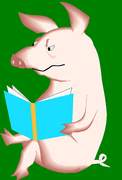 Even though I'm not southern, I'm pleased to be a member of the Southern Humorists writers' group. "Reopening negotiations with the North - One Laugh at a time." "We would also like to go on record as the humorist group with the most couches on the front porch and the greatest number of junk cars rusting in the backyard." Featuring the Dixie Dispatch ezine. (See: Our Websites.)

Back issues of Just Laugh magazine are "Your Source for Humor on the Internet." (See: A - Z List of Links.)
Directories
The

HumorLinks Directory. An extensive list of humor related sites. If you like British comedy, this is the place to start. (See: Writers Block.)
The Open Directory Project is "The largest, most comprehensive human-edited directory of the Web." (Psst, over here, I'll let you in on a secret about directories versus search engines. There are more than 10 things on the net about "humor", or even "humor AND stories". No, it's true! Check it out!) (See: Recreation: Humor: Stories.)

Click here to try to win the award.
Yahoo! Yes, that "Yahoo!". (See: Entertainment:Humor:Stories.)
Humorsource.com. "A directory of quality humor sites with categories like jokes, comics, weird news, funny lists, and other fun stuff." (See: Misc.)
The Comedy Search Engine doesn't have a million links yet. But they're working on it! (See: Rowena.)
ThePunchLine.com declares "Humor has a Home Page." Well, an enormous directory anyway. They have over 11,000 links to movie related humor alone. (See: Spoken & Written Word : Stories.)
Next:
Women, Skeptic & Personal
.
---
---
Rowena's Page
---
Copyright
© 2014 S. D. Youngren <sdy@sdy.org> Site design and hosting by Mark D. Strohm.