A continuing series of mostly-humorous short stories about a young woman's life. Featuring problem parents, crazy coworkers, a few good friends, a very nice young man, and the occasional lemur.
"This is my life, Mom. Not a Jane Austen novel."
Start with the First Story
>
Table of Contents
< >
What's New?
< >
About the Stories
< >
About the Author
<
---
---
Table of Contents
---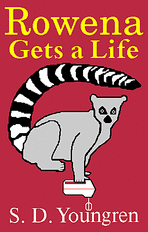 Volume I:
Rowena Gets A Life
Post-college, pre-marriage, Rowena tries to establish an adult life despite her family's attempts to help.
First Story:
Rowena Cooks A Meal
.





---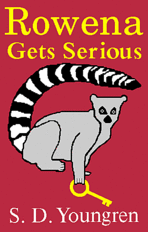 Volume II:
Rowena Gets Serious
Reluctant to get married because of her mother's pressure, Rowena agrees to move in with Sammy, and finds that neither of the two is so easily put off.
First Story:
Rowena Goes To A Wedding
.

---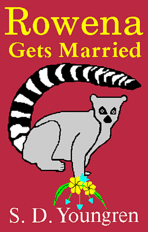 Volume III:
Rowena Gets Married
Officially engaged, Rowena tries to have an actual wedding without eloping or killing anyone.
First Story:
Rowena Goes Public
.
---
Rowena Goes Public
Rowena Makes Waffles
Rowena Gets Net-Savvy
Rowena Plays Cupid
Rowena Makes A List
Rowena Does Consulting
Rowena Fills In
Rowena Thinks Ahead
Rowena Thinks Of Lemurs
Rowena Takes A Break
Rowena Goes Dress-Hunting

Rowena Upholds Tradition
Rowena Mediates A Dispute
Rowena Helps With A Surprise
The stories are continuing:
What's Next For Rowena?
---
Rowena's Page
---
Copyright
© 2021 S. D. Youngren <sdy@sdy.org> Site design and hosting by Mark D. Strohm.